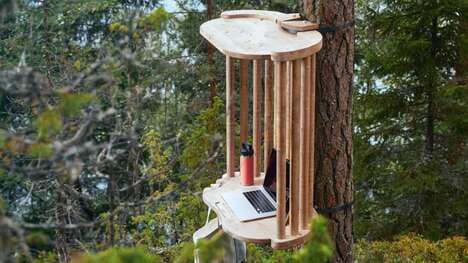 A series of open-air desks have appeared across the city of Lahti in Finland. Finnish design company Upwood and creative agency TBWAHelsinki collaborate to install a remote working station in the middle of the wilderness.
The lakefront city offers a remote desk overlooking Lave Vesijarvi. Various other open-air desks are placed in forest parks closer to residential areas. These remote workstations offer a sense of escapism while allowing employees to work productively.
The desks are made locally with Finnish spruce wood. Each workstation includes a narrow desk surface with ample room for a laptop and notebook. Additionally, the tree-mounted desks feature built-in support to stand up a phone, a cup holder, and a notch to hang bags.
Image Credit: Upwood