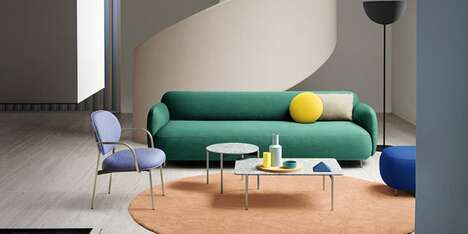 German designer Sebastian Herkner has created a furniture collection that highlights fine craftsmanship and cutting-edge technology.
Dubbed the Blume collection, the line was made for the Italian furniture house Pedrali and was inspired by the natural forms of flowers. The Blume collection first debuted in 2020 and has since been transformed into elevated renditions of its original designs. The collection is marked with clean lines, elegant upholstery, and refined craftsmanship. The designer was inspired by traditional furniture forms but added a curvilinear twist that speaks to the shapes of flower pedals.
The chairs in the collection are made of thin aluminum, which are then upholstered with colorful fabrics. The chairs are designed with versatility in mind and can easily complete any dining or living space.
Image Credit: Andrea Garuti, designboom, designboom