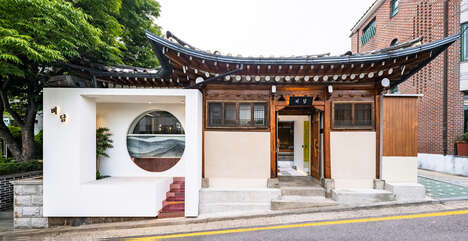 Architecture studio Design Token has turned a traditional Korean home into a laidback performance venue. Titled Cafe Bidam, the architects have transformed the space into a unique cafe and performance center.
The space is rather informal yet large enough to house performances such as spoken word, singing, and dancing. The space is centered around a central courtyard which doubles as a stage. The stage is sunken into the ground, which helps clearly define the performance area from the audiences' space. The floors leading to the stage are overlapped, which creates informal yet practical seating for the audience. A folding screen lies behind the stage, which offers the performers a backstage area. The screen also creates a rich sound reverberation which enhances the viewing experience.
Cafe Bidam balances a laidback aesthetic with enough technical elements to create a unique performance venue.
Image Credit: Yongjoon Choi